All Disney Dreamlight Valley Secret Quests – How to start & complete
Disney Dreamlight Valley has a plethora of quests to complete, from the obvious Friendship Quests to quests that may be a bit harder to come upon, like the rainbow potion quest.
These hidden quests are just as worth completing as the main quests, but they will require you to do some searching to find the missing quest items needed to start. We have a list of all the hidden quests, including how to complete them, below so that you can take advantage of everything.
How to complete all Hidden Quests in Disney Dreamlight Valley
There are several different hidden quests to complete around the Valley, and unlike the usual quests, these aren't started by speaking to a character with a quest icon. Instead, you will usually have to track down a magical item somewhere in the Biomes. Once you pick up the related item, you will be prompted to speak to the individual related to the item to continue.
The rainbow potion/potato quests are even more difficult to begin but similar in locating magical items. However, they usually require even more steps and time to complete. Take a look at the lists below of all the quests and how to start them.
The rainbow potatoes are also considered hidden quests within the game, even more secretive than the other ones listed above. These will usually not even prompt you with clues on how to continue, so here's a look at where to find them and begin the quests below.
| Potato | How to Start |
| --- | --- |
| Red | Reach Level 10 Friendship with Remy and find the Red Potato within Remy's House |
| Orange | Complete Scrooge's Level 10 Friendship Quest for the Lenses of Shadow and Mickey's Friendship Level 10 Quest to open Mickey's Secret Room (Find Gold Potato first) |
| Gold | Find the Gold Potato in Scrooge's Shop near the safe |
| Green | Reach Level 10 Friendship with Simba and begin the "Seeds of Memories" Quest; enter the secret Vitalys Mine room and find the Green Potato |
| Blue | Find the Blue Potato within Ursula's House |
| Purple | Find the Purple Potato within Olaf's Cave in Frosted Heights |
Related: Disney Dreamlight Valley Codes
Now that you know how to begin every hidden quest, we will show you how to completely finish each one. These will often allow you to earn special rewards and aren't necessarily as long as some other quests. Although the potato ones can get a bit intricate, we have all the steps for you below.
Disney Dreamlight Valley A Three-Course Thank You Guide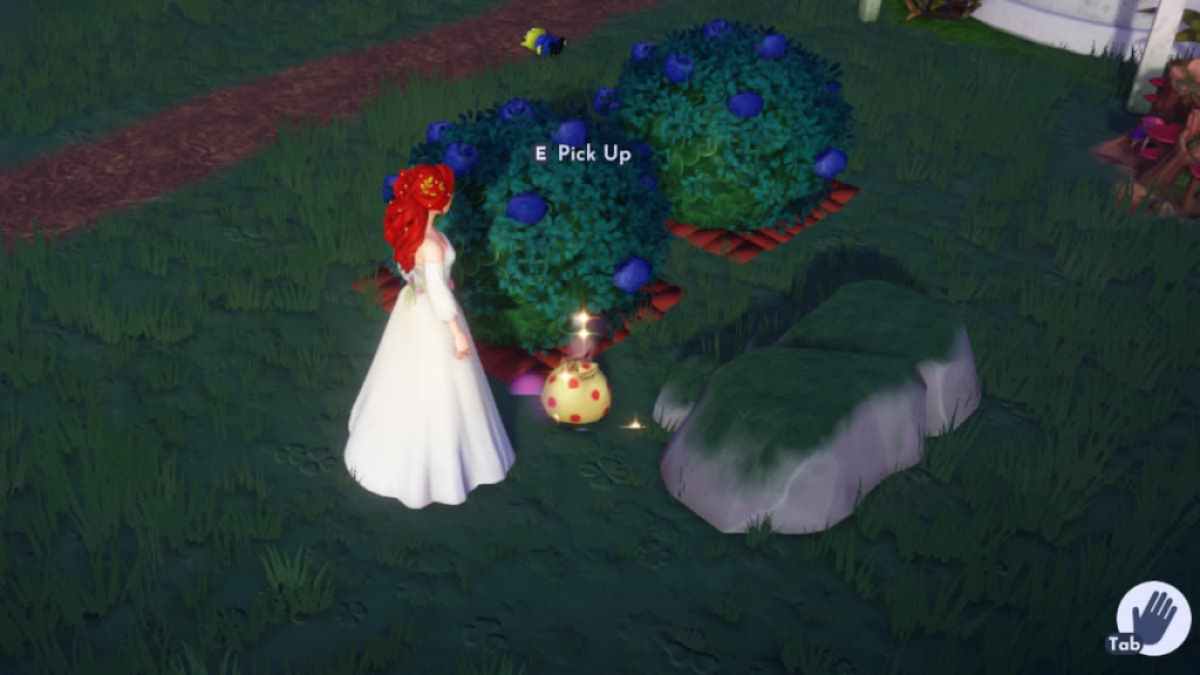 Remy's secret A Three Course Thank You Quest starts with you finding his Ingredient Pouch in the Forest of Valor. The location will differ depending on how your Biome is set up, spawning in a random spot that is clear of any other items and decor. The bag will be yellow with red spots and give off a glow like all quest items do so that you can find it more easily.
Once you pick up the bag, you can return it to Remy, who will ask for help preparing several meals for your friends around the Valley. Remy will give you some extra ingredients, but you'll need to make four 5-star meals, one each for Mickey, Goofy, Merlin, and Scrooge. You can use the items he gave you to whip up something, but I suggest making four Large Seafood Platters since this is one of the easiest 5-star meals. Then, give out the meals to the correct villagers to complete the quest and earn some tasty rewards from Remy: Mediterranean Salad, Ratatouille, and Banana Split.
Disney Dreamlight Valley The Broken Memory Guide
To start the Broken Memory hidden quest, you must first progress to Friendship level 6 or more with WALL-E. To do so quickly, make sure to give him all his favorite gifts of the day or take him along for some chores around the Valley. Once you reach Friendship level 6, venture around and start removing Night Thorns anywhere in the Valley. A Green Memory Orb should pop up eventually, this one containing an electronic component rather than its usual memory puzzle picture.
Bring the component to WALL-E and he will show you a broken machine within his home. You'll need a few more pieces to help him repair it. Head back to WALL-E's Realm and dig around for another electronic component. Then, craft 12 Tinkering Parts. You can make these using Iron Ore and Coal. With all these pieces in your possession, you can craft the F02937 M3 N07, and then give it to him to complete the quest.
Disney Dreamlight Valley Very Magical Minnie Guide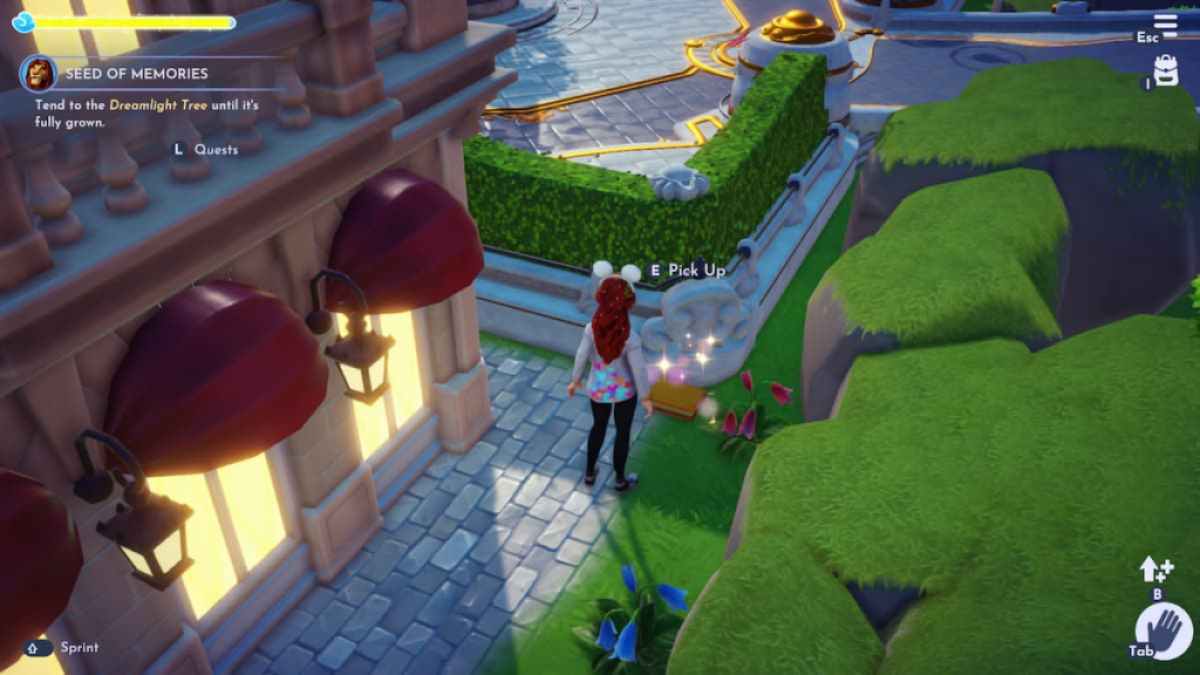 Minnie's hidden quest is started by locating the Borrowed Spellbook in the Plaza. This Borrowed Spellbook can usually be found tucked at the right corner of the middle Well area, just behind Chez Remy, but this could change depending on the layout of your Valley. It should be fairly easy to locate since it's a gold book with sparkles surrounding it.
Once you have it, return it to Minnie. From here, you'll need to seek Merlin's help reassuring Minnie of her place in the Valley. He will tell you to speak to Anna, Elsa, and Moana about things they love about Minnie. Plus, you will also need 6 Dream Shards. You can get Dream Shards by digging in glowing spots around the Valley or by cleansing Night Shards at a Crafting Table. Return these items to Merlin and then head back to Minnie to complete the quest, receiving 50 Clay and 500 Star Coins for your trouble.
Disney Dreamlight Valley Secrets & Schemes Guide
To begin the Secrets & Schemes hidden quest, you'll need to track down Merlin's Lost Notes in the Glade of Trust. These notes can be found near Mother Gothel's home in the Glade, as shown on the map above. The item will appear like a parchment of paper that is glowing. You'll need to return it to Merlin to continue.
Once Merlin is given his lost notes, he will inform you that Mother Gothel and Ursula are conspiring against him. You will have to do a little recon to find out the truth. This will require waiting a full 24 hours in real-time before you can join back into the game and visit Peaceful Meadow or Dazzle Beach to listen in to their conversation. After listening, head back to Merlin to inform him to complete the quest and earn some Dreamlight.
How to complete all Potato Hidden Quests in Disney Dreamlight Valley
Now that you have all the regular hidden quests out of the way, you can begin completing the potato secret quests, which can be a bit more complex, so try and follow along as best as you can. First, check out the list above to see how you can get started, and then check out our guides below.
Disney Dreamlight Valley Red Potato Guide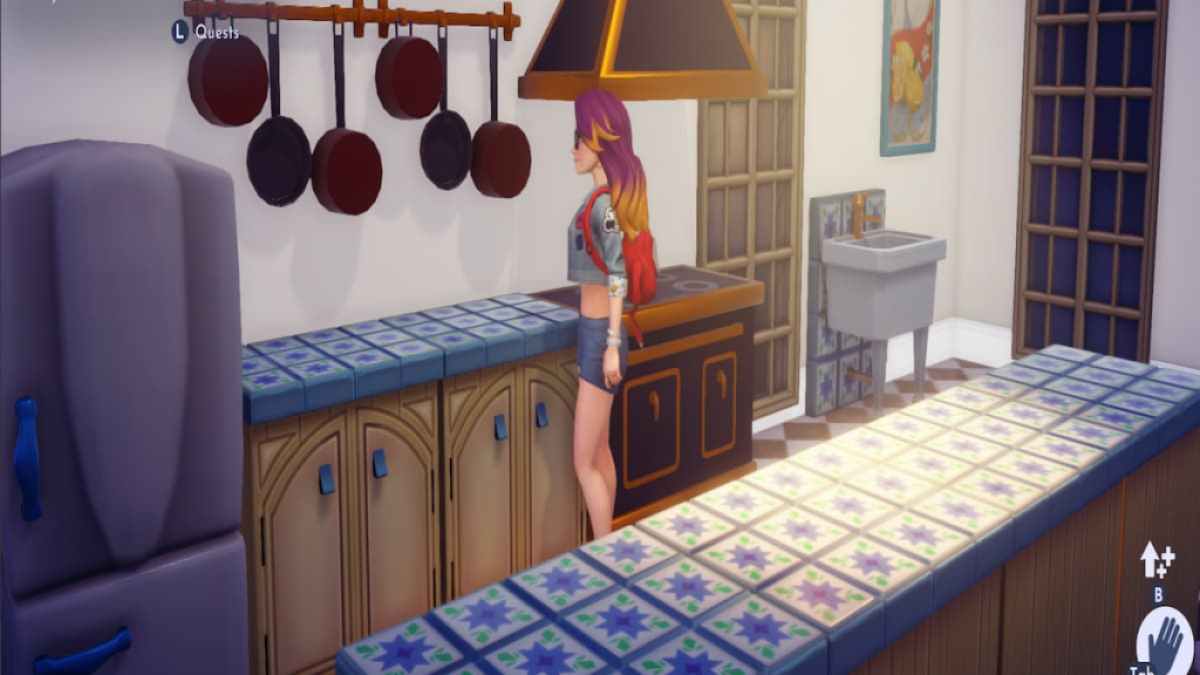 To start the quest for the Red Potato, and eventually the Red Potion, you'll need to acquire the Red Potato within Remy's House. To do this, you'll first need to reach Friendship Level 10 with Remy. Then, you can enter his house and interact with the glowing countertop to add the potato to your inventory. Once you have the potato, there are a few more steps to completing this quest and obtaining the Red Potion.
Head to Remy's Realm and check out the order window on the wall beside the entrance. It will have recipes on display, including the recipe you need for the Red Potion.
Head to a Cooking Station and combine the following ingredients: Red Potato, Slush Ice, Lobster, Raspberry, and Chili Pepper. These together will create the Icy-Red Stew.
Take the Stew to the order window in Remy's Realm and then you will receive the Raging Red Potion.
Disney Dreamlight Valley Gold Potato Guide
The Gold Potato used to be obtained by entering an exclusive code given to players, but with new updates done to the game, players can now find it by heading to Scrooge Mcduck's Shop and looking behind the back counter near the vault. Then, you can begin the process of creating the Gold Potion.
Head to Merlin's House and look for an open book on the back desk with a picture of a potato in a diamond shape. Also, take note of the diamond on the desk itself.
Then, take the Gold Potato to the following Transfiguration spots with the same diamond-shape on them:

Within the Dazzle Beach Mystical Cave at the Plant Puzzle. (Receive the Golden Carrot)
Within Elsa's Cave in the Forest of Valor at her ice table. (Recieve the Golden Crab)
Within the Dream Castle at the very top level on the stairs railing. (Receive Golden Night Thorn)
Within Merlin's House at the same desk with the open potato book. (Receive Gleaming Gold Potion)
Disney Dreamlight Valley Orange Potato Guide
Getting the Orange Potato and creating the Orange Potion is a bit of a longer process. You will need to complete Mickey's Level 10 Friendship Quest to enter Mickey's Secret Room in the Dream Castle and Scrooge McDuck's Level 10 Friendship Quest to receive the Lenses of Shadow sunglasses. Make sure you have the sunglasses equipped. Then, you can start locating all the shattered Orange Pebbles.
There are 20 Orange Pebbles in total. Approaching them will prompt for an interaction with three question marks. Use the pictures above to help locate them. You can find them in these locations:
Mickey's Secret Room x3
Dream Castle x3
Remy's Realm x1
Moana's Realm x4
WALL-E's Realm x2
Frozen Realm x3
Toy Story Realm x4
Once you have all the pieces, head to the nearest Crafting Table to reassemble them into the orange potato; then, creating the Electrifying Orange Potion is easy. Make an Empty Vial and combine it with the Orange Potato at a Crafting Table, and voila! You've completed the Orange Potato quest.
Disney Dreamlight Valley Green Potato Guide
To collect the Green Potato, you're going to need to go fishing around the Biomes and collect 16 Emerald Bottles. Similar to the Orange Pebbles, these will give you Emerald Slivers once you Use them in your Inventory, and allow you to reassemble them into the potato.
Use the map pictures above to help you find and fish for all the bottles you need. You can find them in these locations:
Peaceful Meadow x2
Dazzle Beach x5
Glade of Trust x4
Forest of Valor x1
Frosted Heights x1
Sunlit Plateau x2
Forgotten Lands x1
Once you have all the bottles and broken them down in your inventory into Emerald Slivers, head to a Crafting Table and make them into a Jade Crystal. Ensure you have that Jade Crystal in your inventory and head to the secret room in Vitalys Mine, which opened when you completed Simba's Level 10 Friendship Quest, and follow these steps:
In the room, look for the green crystal ball and interact with it to receive Green Seeds.
Plant the Green Seeds in The Forgotten Lands and care for it until you receive the Green Potato. (It helps to use a Miracle Growth Elixir)
Combine the Jade Crystal, Green Potato, and Empty Vial at a Crafting Table to recieve the Crystalline Green Potion.
Related: How to complete The Dreamlight Grove in Disney Dreamlight Valley – Simba Level 10 Friendship Quest Guide
Disney Dreamlight Valley Blue Potato Guide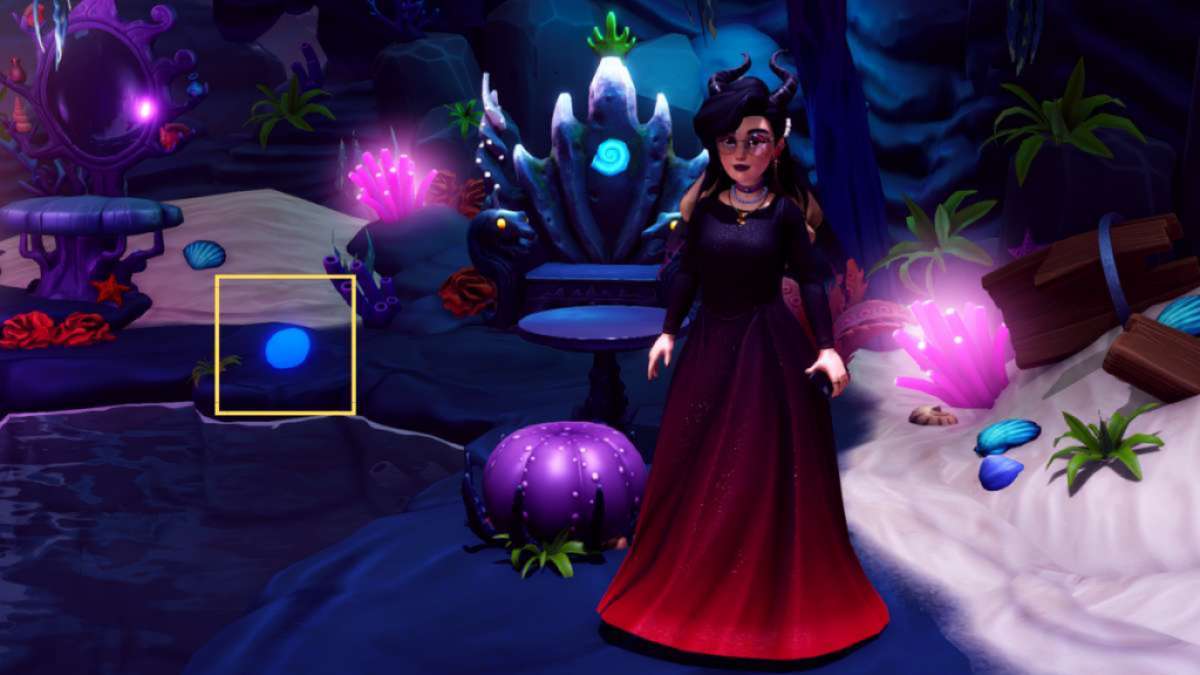 The Blue Potato can be found in Ursula's Home. Just enter inside and you'll see the glowing Blue Potato on the floor beside her throne. However, to make the Blue Potion, you'll need to collect a few more magical blue items. To do that, head to these locations with the Blue Potato in your inventory:
Moana's Realm – Blue Shell
Ariel's Realm – Blue Starfish
Dazzle Beach Mystical Cave (at the very bottom in the pond area) – Blue Book
Vitalys Mine (off the broken tracks) – Blue Gem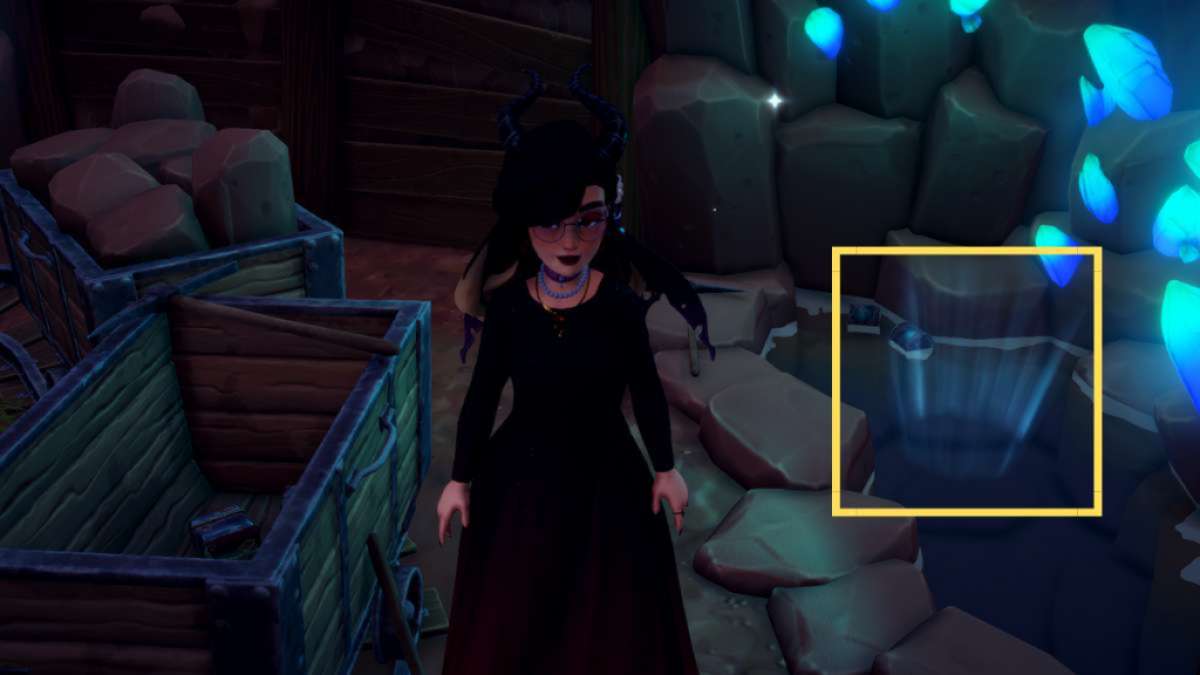 Once you have all the items you need, head to the shimmering water spot in Vitalys Mine and place all items together, including the Blue Potato. This will create the Brilliant Blue Potion and allow you to pick it up and add it to your collection.
Disney Dreamlight Valley Purple Potato Guide
Getting the Purple Potato is not quite as complicated as some of the others, except it does require you to have a good memory. You may have noticed a bunch of mini purple books hidden around the Biomes, and if you read one, acquired a random fact within. These books hold the answers to the trivia questions you'll be asked to get your Purple Potato. Don't worry about tracking them all down, we have the answers you'll need right here.
First, head to Olaf's Cave in Frosted Heights. Inside, you'll see the mysterious Purple Portal, and if you get up to it, you can now speak to it. It will ask all the trivia questions and, if answered correctly, will drop your Purple Potato. This is the exact order and answers you'll need to choose for these questions:
1. Potato
2. Book
3. Dreams
4. Higgitus Figgitus
5. Fugu
6. Crystal
7. Foraging
8. The Forgetting
9. Raspberry
10. Magic
Then, you can pick up your Purple Potato and head to the nearest Crafting Table. Combining the potato with an Empty Vial will give you the Royal Purple Potion.
With all the potions in your possession, use a Crafting Table to put all the potions together into the Rainbow Potion and hold onto it as players await the solution to this potion. These are all the hidden quests so far, but there are sure to be more secrets revealed in the future, so stay tuned!
Looking for more Pro Game Guides Disney Dreamlight Valley content? Check out our guides on Disney Dreamlight Valley Multiplayer and Expansion Pass details or