Disney Lorcana's Rise of the Floodborn Starter Decks are exactly what you want
Am I the only one who feels like it's been a lot more than three months since Disney Lorcana launched? Don't get me wrong, I had a lot of fun with The First Chapter. I opened a ton of packs, made a lot of new friends, and discovered a new way to connect with my family – who suddenly became TCG fanatics when they saw Big Tink – but as a reasonably competitive player, I was ready for more Lorcana for a while. At 204 cards, the flexibility of the meta is limited and I'm tired of seeing the same decks week after week.
When the Rise of the Floodborn starter decks showed up in my mailbox last week, I immediately felt reborn. They may be weak, small, beginner-friendly decks, but there's so much going on in them that we've never seen in the game before. They inspire me to start tinkering with RotF as quickly as possible, which is exactly what a starter deck is supposed to do. If you've been bored with the game over the last month, I'll be the first to tell you that Lorcana is back, baby.
Related: Every Map for Disney Lorcana's Rise of the Floodborn Revealed
This time we only get two starter decks instead of three, which is fine by me. Both do a good job of showcasing the expansion's new mechanics and key features, and after playing them, I don't think a third game was necessary, especially since, like last time, it's just another Ruby/ Emerald would have been.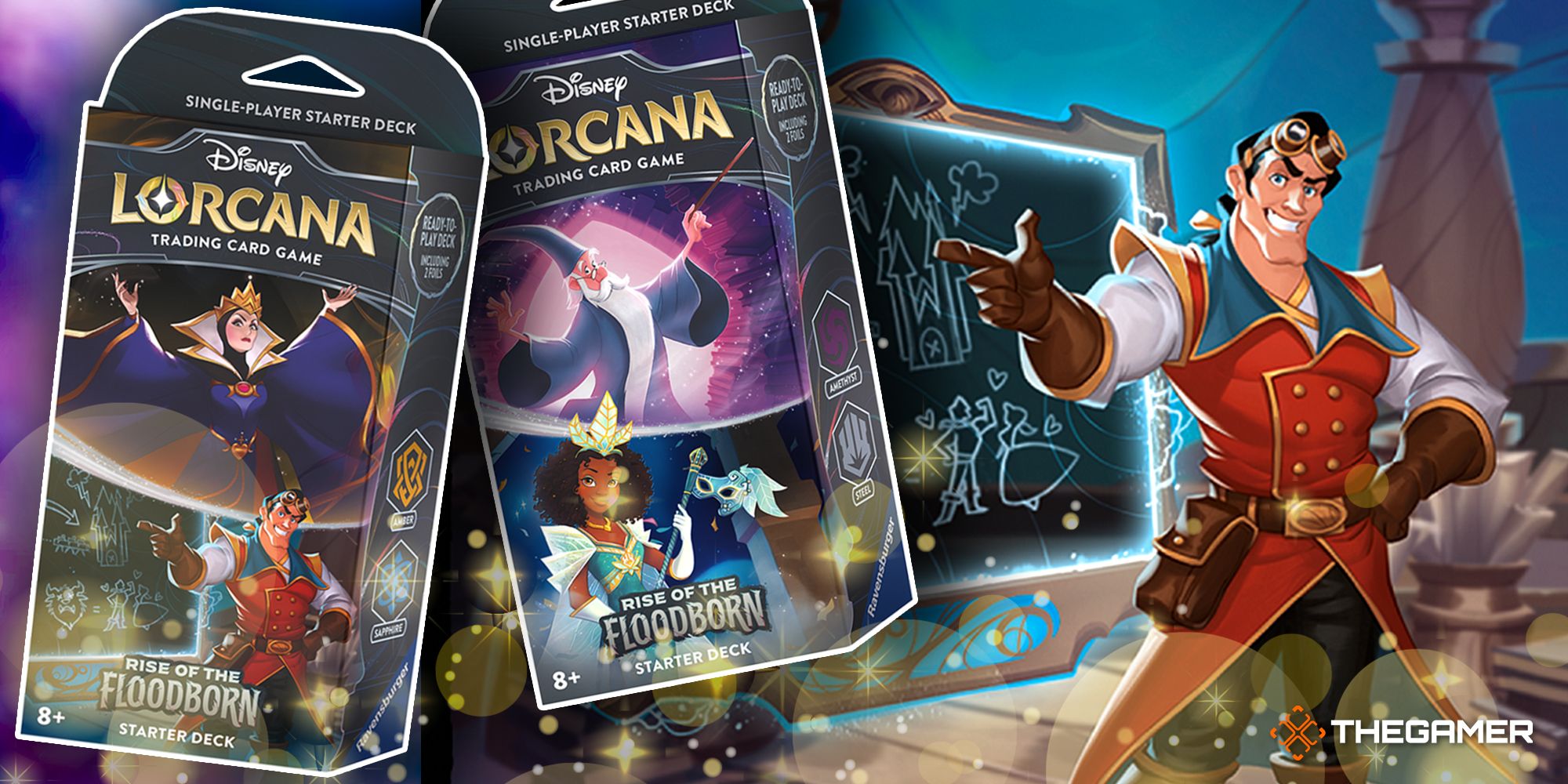 First up is Tactical Teamwork, an Amber/Sapphire deck with two main playlines. The first is dwarves. There are a lot of them. The gnomes are cute, they all form a big picture in a row, and they have great taste too. Sleepy comes into play tense because he's so sleepy, and when Dopey is banished, the remaining dwarves go into a bloodlust and gain +2 Strength to avenge him. That rules. This is a bit of a go-wide deck like the last Amber starter, but it also focuses on a second mechanic: sacrificing items.
Item decks didn't really come together in the first chapter, although they were fun to play around with. This deck contains many cheap items that are designed to banish you, either by using the item's ability or by playing the cards Hiram Flaversham, Judy Hopps, and Launch to draw cards and banish opposing characters. It will be fun to add more item traders like Tamotoa, Maurice, and Ariel to see if we can finally make item slingers a thingbut the package itself doesn't do much here.
You also get two Floodborn foil characters, The Queen, Commanding Presence and Gaston, Intellectual Powerhouse, as well as some shift targets and a few support cards in Grand Duke and Lefou, respectively. These are solid, playable cards that you'll want to add to your collection, and it's nice that Ravensburger included two of them here as it relates to Rise of the Floodborn.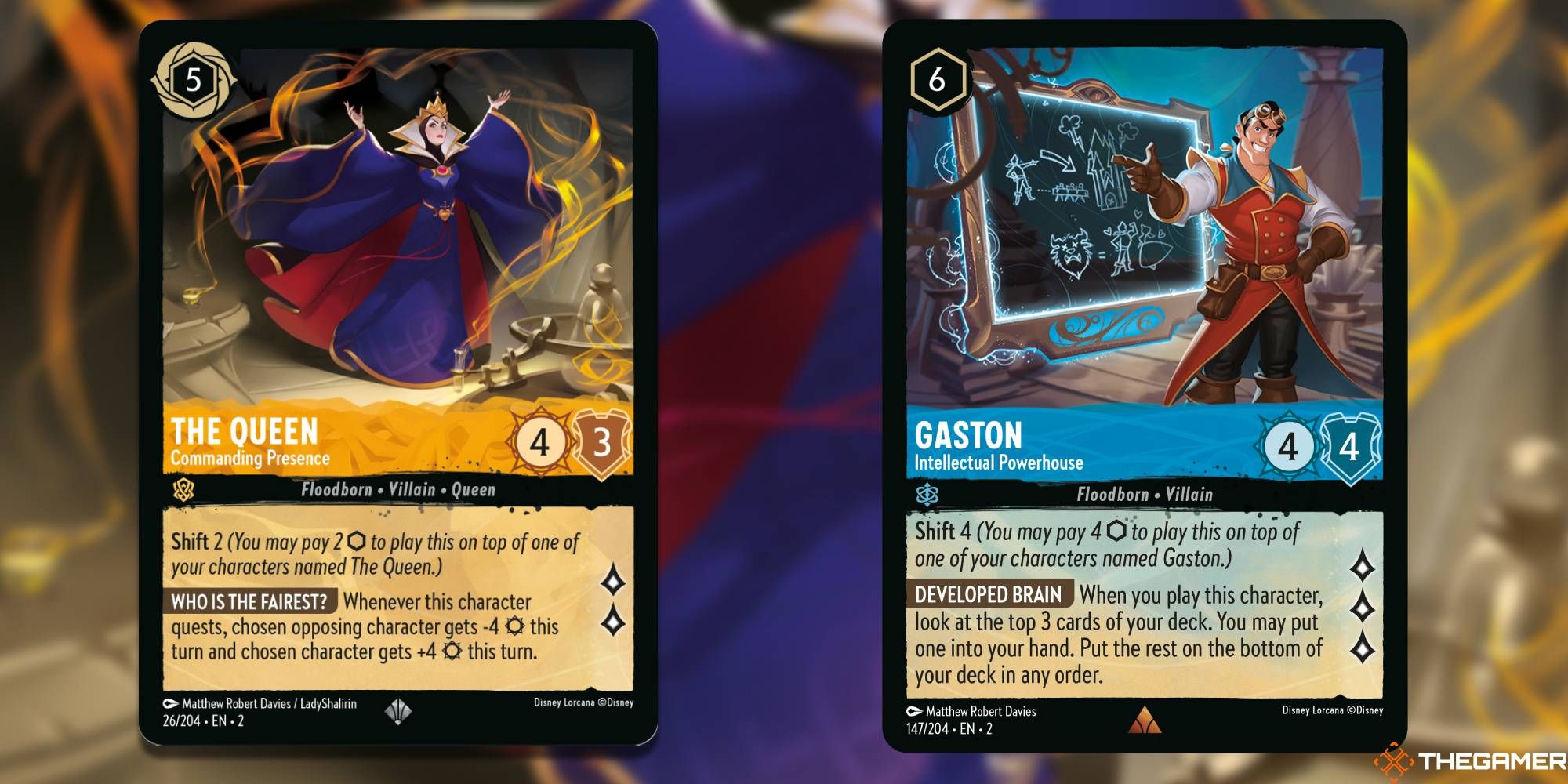 What annoys me a little about this deck is that it's missing a few really important cards: Snow White, Unexpected House Guest to make the dwarves cheaper, and Nick Wilde, Cunning Fox to get your items back from your banish pile. I understand the idea of ​​building your deck over time and that's the easiest place to start, but these cards are too important to leave out. They make the decks make sense both mechanically and thematically. You have the dwarves, they need Snow White. You have Judy Hopps and Pawpsicles, you need Nick Wilde. These are uncommon cards that are automatically added when you want to start upgrading your deck, and I think they should have just been included here.
The other deck is Might and Magic, an Amethyst/Steel deck that features RotF's new Resist keyword and its big new deck-building mechanic that lets you get your own cards back into your hand. If you only get a starter deck at the start of your RotF journey, it will likely contain the more valuable cards.
Here you get the majority of the Madam Mim/Merlin package, including a foil Merlin and a shapeshifter; Mrs. Mim, Fox; and one of the most interesting cards in the set, Merlin, Fox – actually three of them. It's a good place to start if you want to build a bounce deck. The jury is still out on how viable this strategy will be, but I expect a lot of people will try it out… However, it's hard to say given the limited options in this deck.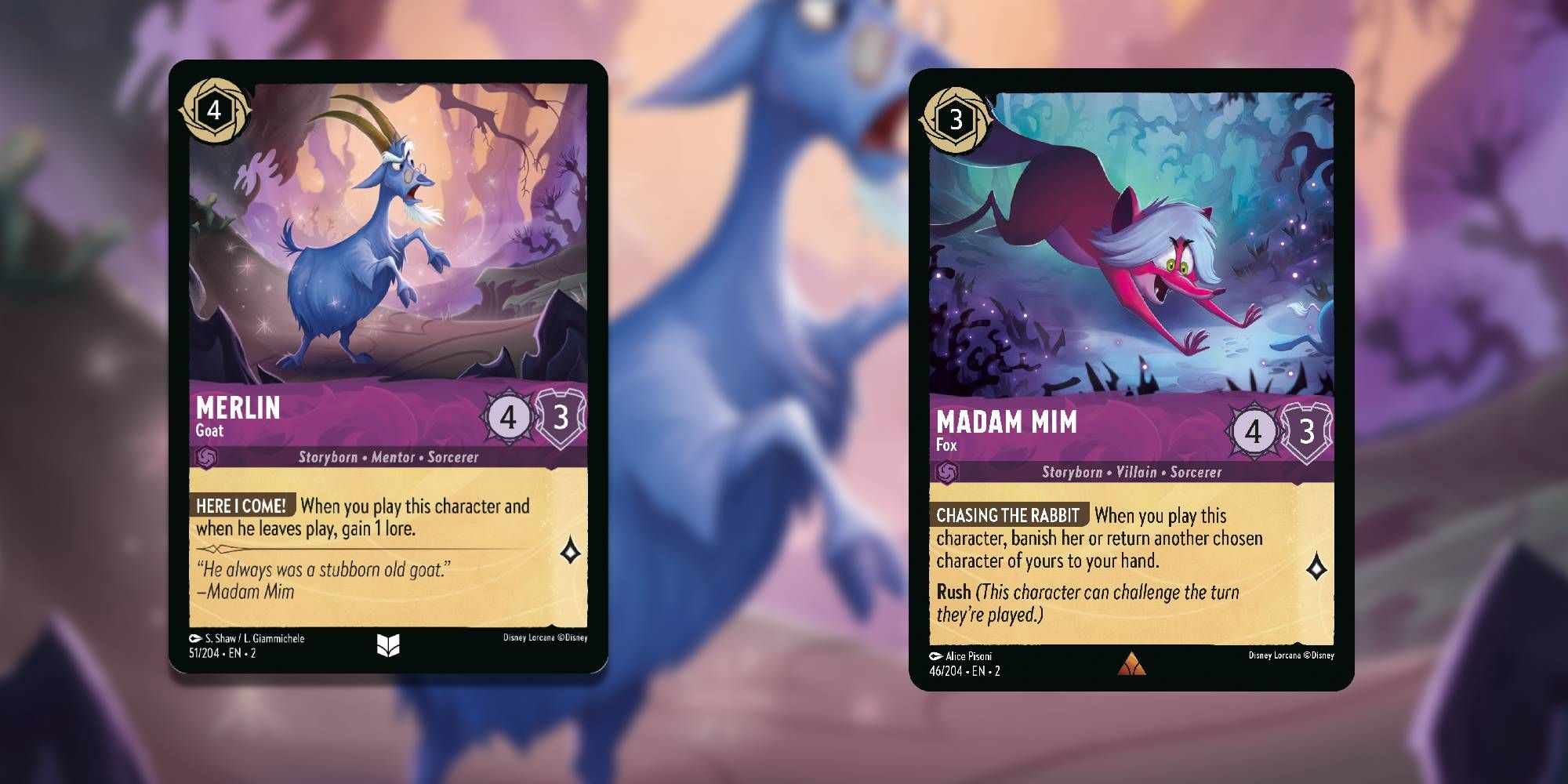 You also get a whole lot of resist cards, and boy did I underestimate its power. Even Resistance +1 can completely mess up your opponents' math and force them to focus too much on clearing your board. Mouse Armor may be one of the most underrated cards right now – you heard it here first.
There is no Floodborn in this deck, which is a bit strange for the Rise of the Floodborn expansion. I guess that's the other deck? Hercules, Divine Hero would have fit the Resist theme really well, and there's already a nice, cheap Hercules here, so I think that's another obvious upgrade. Again, if I feel like the card should have been in the deck, then I wish it had just been included in the box.
The matchup between the decks is quite interesting. Tactical Teamwork is a very combat trick-focused deck with lots of ways to influence the strength of your opponents' cards each turn. You've got a few good card draws, a few good opportunities to go far with the Dwarves, and even a bit of ramp with Winnie the Pooh, Taking a Think. This is the more aggressive of the two decks and has room for more characters. Might and Magic tends to have a narrower board with greater threats, and Resist makes it easy to move up to try and maintain board advantage. While the original three starter decks had a rock-paper-scissors dynamic, these two feel more even, making them great for casual play.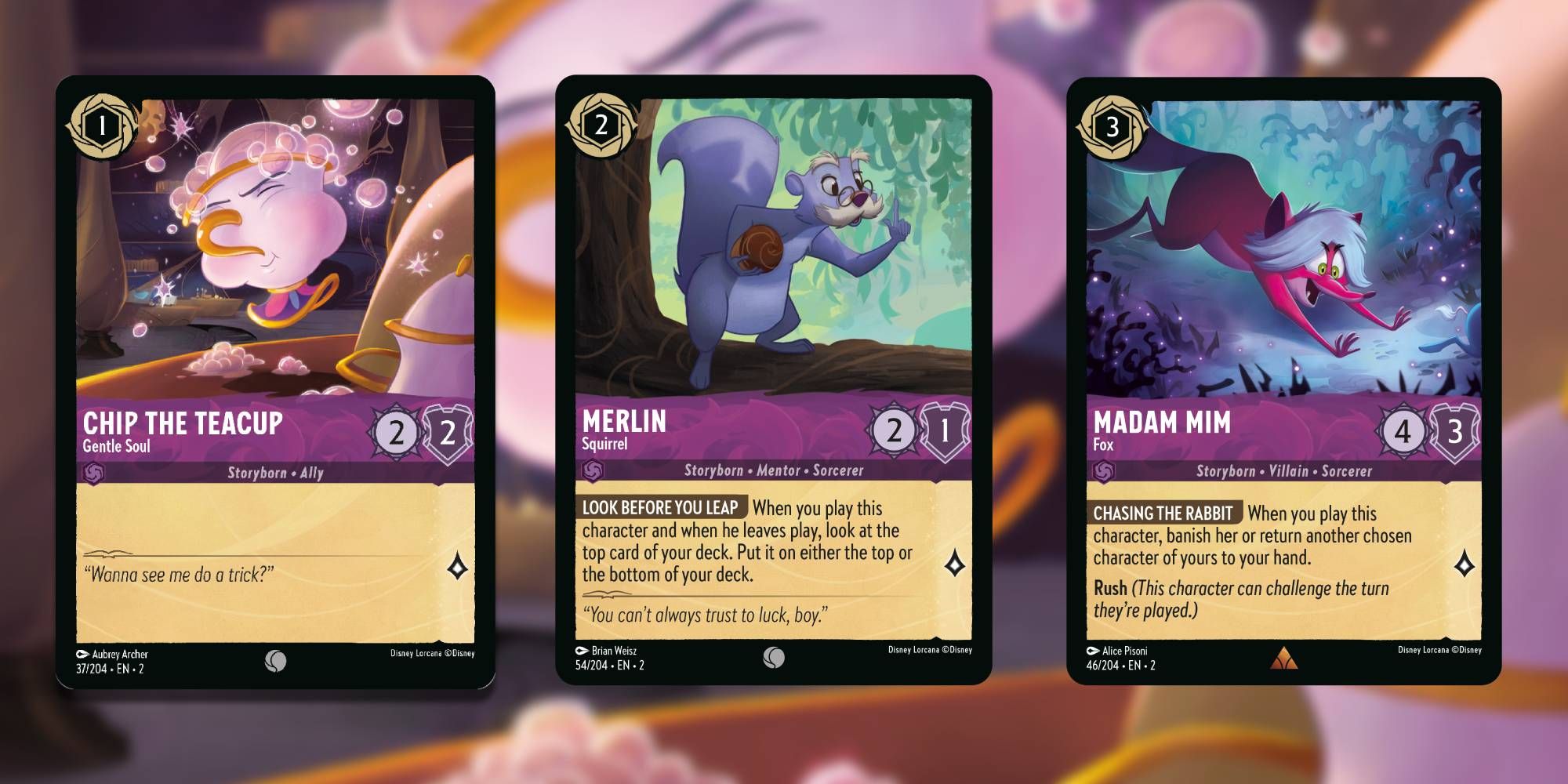 The new starter decks are a big flavor addition to Rise of the Floodborn. From the box to the damage counters to the included rules sheet, everything has a dash of Ink Flood goodness. These decks certainly don't represent every aspect of the expansion, but they're a great first step into RotF that's sure to get us all going as we head out in search of the new best decks. I think they could be built a little more cohesively, but whether you're new to Lorcana or just excited about the expansion, this is exactly what you want in a starter deck.
Next: Rest in peace with these Lorcana cards that will never be played again after next week