The Awakened King feels like another homage to Bloodborne
Highlights
Remnant 2 draws inspiration from various games, including Resident Evil 4, Diablo and Destiny, but has the biggest influence on the Dark Souls series.
The new DLC for Remnant 2, The Awakened King, pays strong homage to Bloodborne with its setting and Lovecraftian themes.
The DLC takes players to the city of Losomn, which is reminiscent of Bloodborne's Yharnham and features dark and decaying environments and enemies that evoke a sense of dread.
Both the original Remnant: From The Ashes and its sequel Remnant 2 have some major inspiration behind them. Resident Evil 4 is a pretty clear influence, with the meaty, over-the-shoulder combat. There's also a bit of Diablo and a bit of Destiny, with an emphasis on loot. Of course, the shadow of Dark Souls looms large, and I think it's fair to say that both games owe a lot to FromSoftware's groundbreaking RPG. Without them, we probably wouldn't have had any of the Remnant games (and a whole bunch of others, but that's a story for another time).
From The Ashes was very Dark Souls in its basic structure. Linear levels punctuated by campfires and boss fights. Although it was very varied thematically, it was much more science fiction than medieval fantasy. As a science fiction fan, I appreciated this. I'm all about strange alien labyrinths and evil hive mind monstrosities. However, I'm an even bigger Bloodborne nut (I know that sounds gross, but it's true). I've played through it dozens of times, I have all the trophies including the DLC trophies, and it's still my favorite game of all time. Although I have to admit that even after almost a decade it is in desperate need of a re-release.
Related: Remnant 2: The Best Weapons in the Game, Ranked
Imagine my delight when, while reviewing Remnant 2, I discovered that one of the possible opening locations, Losomn, is essentially Yharnham, as my colleague and Bloodborne enthusiast Robert Zak was quick to point out. In a run-down Victorian town, angry townspeople are on the hunt for outsiders (i.e. you), the sewers are crawling with monsters, and there are even a few werewolves on the loose. It couldn't be more Bloodborne if it tried, and that didn't bother me at all. There's so little Bloodborne, I'll take whatever I can get.
Return of the King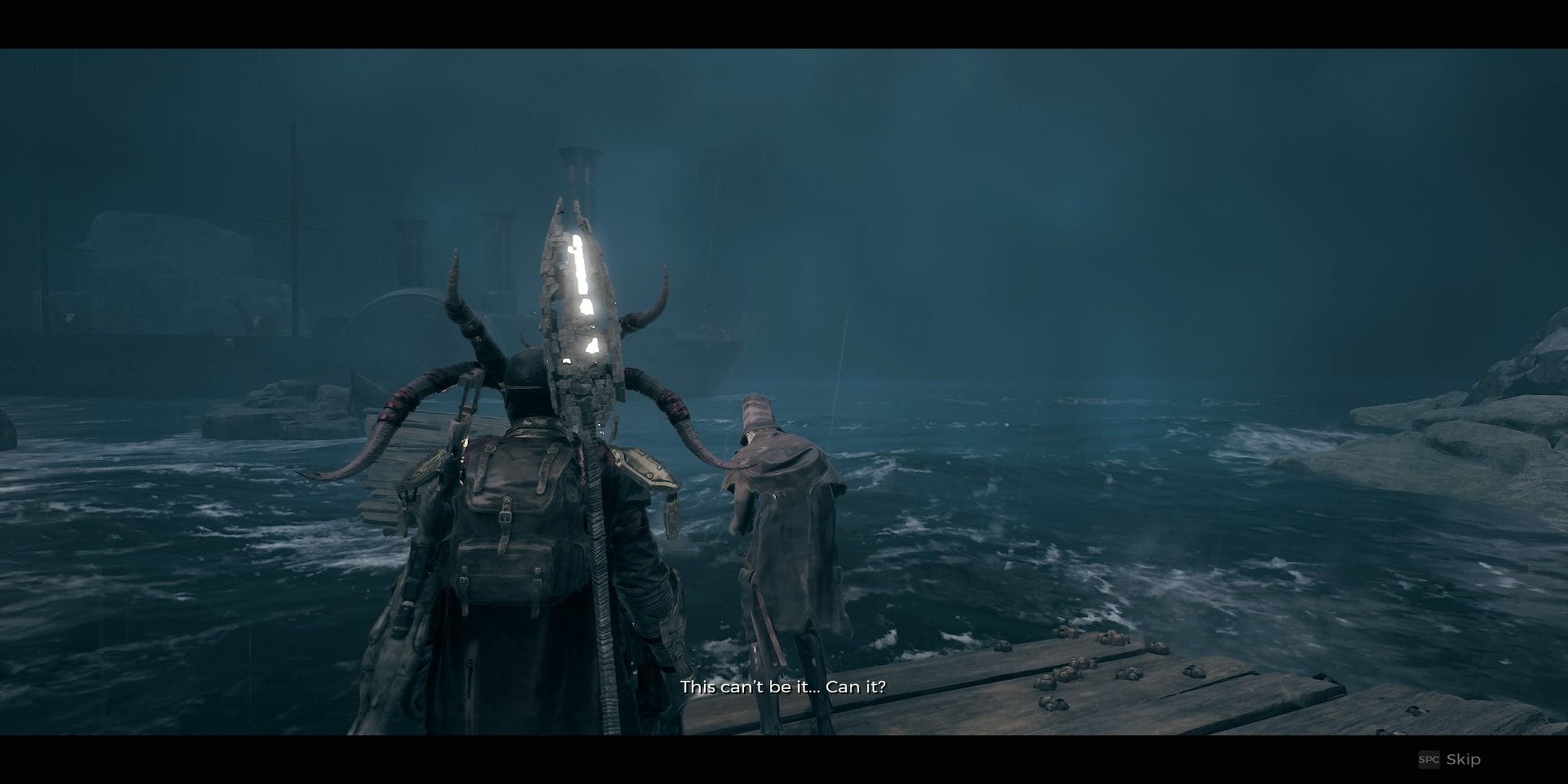 Recently I had the opportunity to get into The Awakened King, the new Remnant 2 DLC. I didn't know what to expect, but as it turned out, it was definitely Gunfire Games doubled about the whole Bloodborne homage thing. The DLC initially takes place in Losomn. This time, however, things start differently. Instead of plunging you into what looks like a replica of Yharham town center, the DLC begins in a location reminiscent of the Fishing Hamlet from the Old Hunters expansion. Yes, this is a deep cut from Bloodborne.
I'm a big fan of Lovecraft's stories, and something about The Awakened King immediately reminded me of them.
The overarching narrative revolves around the return of the one true king, reawakened after the fall of the Impostor King in the base game. Of course, he's out for blood, and it's up to you to stop him and prevent his insidious influence from plunging the land into darkness. His return spells doom for the people of Losomn, and it shows clearly. Misery and decay are the order of the day.
Related: Picking Apart Remnant 2's Completely Wild Ending
I get a strong Lovecraft vibe. Some ancient evil is stirring and no one knows what to do. People are being driven mad in droves, and it feels like the end of days is fast approaching. I'm a big fan of Lovecraft's stories, and something about The Awakened King immediately reminded me of them.
A debt to Lovecraft
This familiar feeling came over me as soon as I entered the harbor. The dark, raging sea and the dark, gaunt figures along the waterfront felt as much of a nod to the work of HP Lovecraft as Bloodborne – more specifically, The Shadow Over Innsmouth, a personal favorite of mine. There is a palpable atmosphere of despair and decay. Rotting fish and run-down huts everywhere. Everyone you meet who isn't trying to kill you murmurs of a spreading darkness or plague, and many have given up hope entirely.
The rest of the game is hardly all sunshine and rainbows, but there are no other areas that feel quite as unsettling. It's a horror film with a (mostly) human face, which I always find most disturbing. Most of the enemies you face are flesh and blood, not haunted bushes or giant stone automatons. One of the new elite enemies is a woman in black robes and a wide-brimmed hat who chases you around with a giant axe. She'd probably get along well with the giant chainsaw-wielding man from the base game, who also appears in the DLC. Later, you can explore some sewers filled with what look like Bloodborne's messengers have grown into pure evil. With creepy purple eyes.
As you would expect, Losomn was one of my favorite areas in Remant 2, so having the opportunity to explore more of its dark and desolate back alleys is a real joy for me. There really isn't enough Bloodborne in the world, so it's nice to play something so obviously inspired by it. The Awakened King scratches my very specific itch, and for that I am grateful.
Rest 2
Approved

July 25, 2023

developer

Shooting games